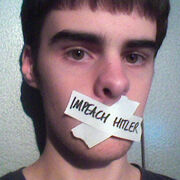 maestro (also known as ortsz or whatever else takes his fancy) is an administrator of the Metanet Forums, an occasional mapmaker and former administrator of NUMA, founder of the N wiki, and an operator and frequent user of the N IRC. He joined the Metanet Forums in January 2005 and became a moderator in August 2007. In early 2010 he became an administrator along with Yanni and SlappyMcGee after Kablizzy, blue_tetris, and KinGAleX resigned. He has over 150 maps on NUMA, including one featured map, The Mountain.
External Links
Edit
Ad blocker interference detected!
Wikia is a free-to-use site that makes money from advertising. We have a modified experience for viewers using ad blockers

Wikia is not accessible if you've made further modifications. Remove the custom ad blocker rule(s) and the page will load as expected.