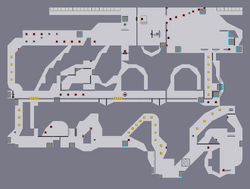 The correct title of this article is

lord_day

. The initial letter is shown capitalized due to technical restrictions.
One of the most admired of the 2006 members, lord_day has proven that his map making skills are among the best in the N community.
In the dronies 2006, he was voted second best map maker of the year, just behind Barabajagal and just in front of Clifty. He also made the map judged third best survival called Society . One of his greatest maps, The Heart Of The Machines: The Engine Room (left) is possibly one of the greatest DDA's in N history. Lasting for roughly 30 seconds, the rocket fired follows the ninja throughout the map taking some very tight and clever routes through the tiles.
Always kind and giving to his fellow players, lord_day is also to be found cruising the forum helping new guys and veterans alike.
He won the dronie for best mapmaker in 2008, and the dronie for most innovative use of objects and tiles in 2011.
Lord_Day also goes by the nickname, "worm", everyone calls him that - legend has it that apparently the nickname came from his ability to wriggle himself out of tight situations, such as getting away with raiding the year 9 dorm room when he was in year 12.
Level Pack
Edit
He has been involved in the following 12 packs
The Continued Column - 51 maps - 05 Oct 2008
The Infernus - 5 maps - 16 Sep 2008
Vampirism - 21 maps - 14 Sep 2008
Session 4 (level list) - 50 maps - March 30, 2007
St. Atilla's College for Ninja - 42 maps - May 17, 2006
Ved Buens Ende - 45 maps - February 6, 2007
The Completed Column - 45 maps - November 20, 2006
Echo Revisited - 15 maps - December 19, 2006
Vehemence - 1100 maps - September 12, 2006
Drone Challenges - 5 maps - September 19, 2006
Royal Series - 95 maps - June 7, 2006
The Echo Pack - 50 maps (Episodes 02, 04 & 09) - August 7, 2006
Ad blocker interference detected!
Wikia is a free-to-use site that makes money from advertising. We have a modified experience for viewers using ad blockers

Wikia is not accessible if you've made further modifications. Remove the custom ad blocker rule(s) and the page will load as expected.