Walkthroughs
Method 1 (Cautious)
This level is very flexible (yet surprisingly difficult) by giving plenty of space for the player to pick his/her own route. Walljump off of the bounceblocks as many times as possible. There are various ways to complete the level. If you have enough time, one manner to do such is to pick one route that leads to the top and to stick with that route each time you go up, which allows you to tackle the level systematically, while not requiring much memorization. One such way is illustrated below.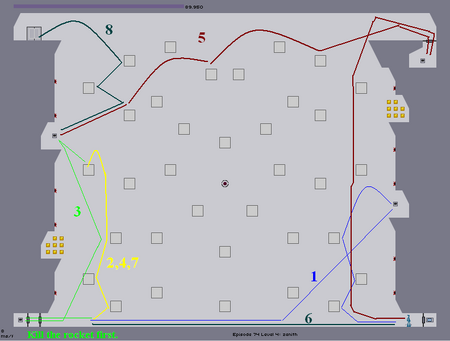 Method 2 (Easy)
Instead of systematically approaching this level, just pick whatever route is convenient at the time. This could prevent nervousness to perform a memorized route.
Click on a route below to enlarge it.
Method 3 (highscore)
Use larger wall-jumps, which should bring you close to the top. Also, get the gold whenever convenient (the top right while dropping down path 5).
Ad blocker interference detected!
Wikia is a free-to-use site that makes money from advertising. We have a modified experience for viewers using ad blockers

Wikia is not accessible if you've made further modifications. Remove the custom ad blocker rule(s) and the page will load as expected.