Walkthroughs
Method 1 (easy)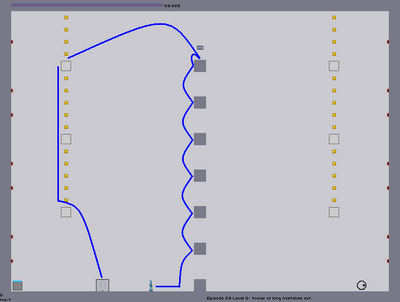 Just walljump all of the blocks, maintaining a constant speed. This will get you to the top. Then hit the terminal, and jump to the door (or go to the left and get the gold).
This level might seem quite easy for being the second-to-last level on a column, though it is just practice for the next level, 39-4.
Method 2 (highscore)
Stop at the third block, jump over to the right-hand side, and use the bounceblock jumps to collect all of the gold upto the top. Jump left over to the terminal, then left again to the other set of bounceblocks to collect the remaining gold.
Ad blocker interference detected!
Wikia is a free-to-use site that makes money from advertising. We have a modified experience for viewers using ad blockers

Wikia is not accessible if you've made further modifications. Remove the custom ad blocker rule(s) and the page will load as expected.