Walkthroughs
Method 1 (Easy)
Jump and hit the launchpad, and collect the gold at the top. Fall down towards the left side and hit the next launchpad (the gauss turrets really shouldn't bother you that much), which will propel you to the diagonal launchpad. Use it to climb up to the top left switch, and if you did the beginning quickly enough the zap drones should still be away from that corner. Run across and jump to the right side (get the exit switch on the way) and get the next switch.
Fall down and hit the bottom right diagonal launchpad, which will send you into the top right quadrant. Grab the switch there, then run to the left side and use the bottom right launchpad to get the last switch, using a "super jump" if desired. Fall down and get to the exit.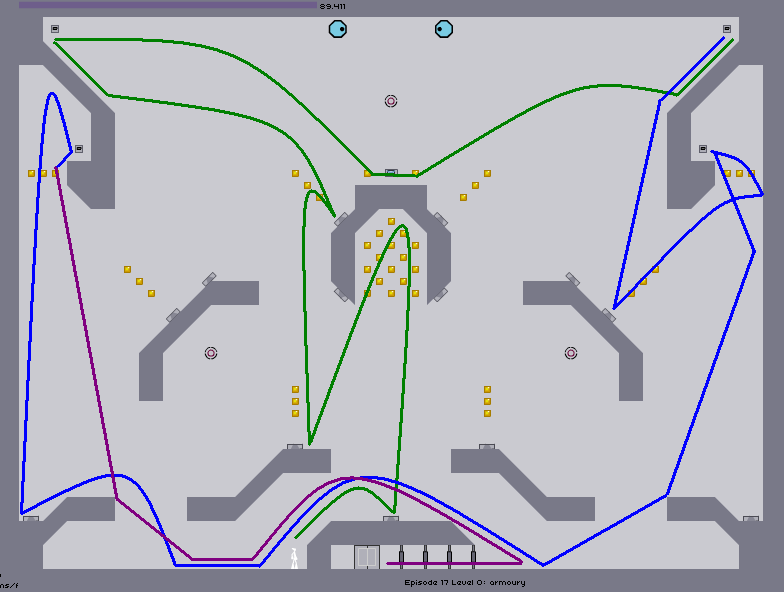 Method 2 (Highscore)
The 0th run set by Ben_Schultz_11 (AKA ska) essentially utilizes and cleans up an innovation most likely developed by clux years before involving a corner jump. Refer to eru_bahagon's 2nd place run for an easier, albeit slightly slower variation on this route that includes jumping between launch pads; a route which is more suitable for players who find the current 0th route too difficult.
Ad blocker interference detected!
Wikia is a free-to-use site that makes money from advertising. We have a modified experience for viewers using ad blockers

Wikia is not accessible if you've made further modifications. Remove the custom ad blocker rule(s) and the page will load as expected.